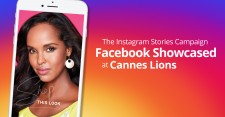 Facebook recognizes AdParlor at Cannes Lions for its innovative use of creative analytics technology for Instagram Stories.
CANNES, France, June 21, 2017 (Newswire.com) - AdParlor, a leading social and video ad tech company, announced today that Facebook showcased the company's technology at the 2017 Cannes Lions International Festival of Creativity. The company was recognized for developing innovative new creative analytics technology that is driving strong performance with the new Instagram Stories ad unit.
Front and center was a campaign case study that demonstrated the application of AdParlor's unique Intelligence Tags technology to identify which product categories, calls-to-action, and color schemes drive the highest return on advertising spending (ROAS) for Today's Shopping Choice.
"We're big believers in the power of Instagram Stories, and have been working since day one to help advertisers understand how to be effective with this new format," Paul Van Winssen, VP of Platform Partnerships at AdParlor said. "It's an incredible honor to be recognized by Facebook for the positive impact our technology is having on our clients' campaigns."
Intelligence Tags, or Intel Tags for short, is technology that uses image recognition, artificial intelligence, and machine learning to automatically tag media assets. The tags are used to provide insight into which elements of creative drive the best results on a macro-level — a task that would otherwise be time-intensive and incredibly difficult.
The result is a deeper level of insight into what works and why. This, when applied, translates to more relevant and efficient advertising. Intelligence Tags are currently being used by several retail and eCommerce brands to drive better results for their Facebook and Instagram advertising.
To learn more about AdParlor's Intelligence Tags, visit http://adparlor.com/intel-tags.
About AdParlor
When advertisers want their social advertising campaigns to have the greatest impact, they enlist AdParlor. AdParlor's advertising solutions and strategies use data-driven approaches to get the best performance from Facebook, Instagram, Pinterest, Snapchat, LinkedIn and Twitter advertising for over half of the Fortune 1000. For more information, visit adparlor.com.
Contact​
Rion Martin
Senior Communications Manager
rmartin@adparlor.com
Source: AdParlor
Share: